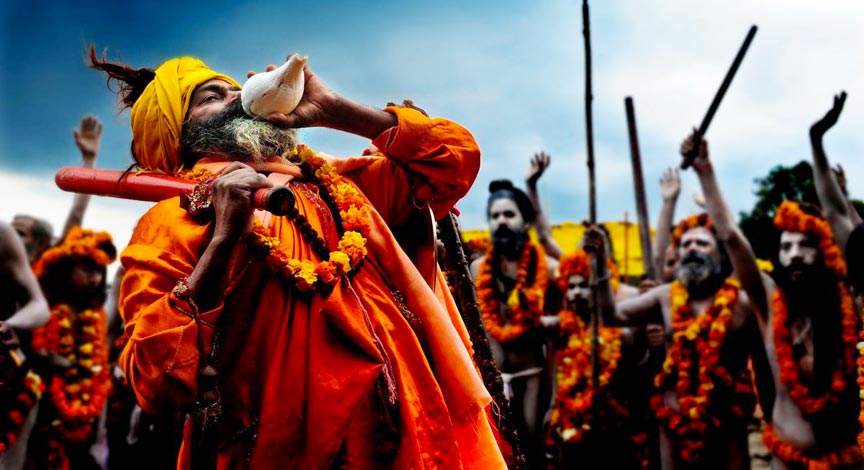 KUMBHA MELA : UJJAIN – INDIA
April 25th – May 14th 2016

3 weeks at the core of Yogas
Kumbha Mela, the largest spiritual yogi meeting in the world is held every three years in one the four cities of : Hardwar, Allahabad, Nasik and Ujjain. Everyone comes there for a bath into this high spiritual atmosphere where the sacred vibration is at its upmost. Day and night, some ascetics perform rituals for the welfare of mankind when some others transmit secret teachings within their lineages that can only be met during this celebration which reflects the several thousand years old yogic cultures.
We invite you to an exceptional program with exceptional conditions for meeting prestigious masters coming from all spiritual yoga currents, including from physical approaches to highest meditation schools.

Program
 26-30 April : International Seminar "Yoga for Peace and Humanity " 

 1- 4 May: Bhakti Yoga "Path to Consciousness and Divinity" 

 5 -15 May: Global Yoga Convention : 

 5 to 8 Physical, emotional and mind global health 

 9 to12: Yoga and daily life management 

 13 to 15: Antaryatra, inner life and meditation 

 Meetings with ascetics, rituals for the harmony of the planet, holy 
baths in the Shipra river, collective meditations… 

 Invited Guests :Dalaï Lama, Dr. Deepak Chopra, Swami Ramdev, Sri Sri Sri Ravi Shankar, Yogi Amrit Desai, Swami Niranjananda, 
Shri O.P Tiwari, Peethadheeshwara Juna Akhara… 

 Staying and lodging : In double bedded air conditioned luxuous Swiss tents with attached bathroom and large veranda. Secured camp site by high trained private warden, ayurvedic cuisine, mineral water, doctors on the spot, wifi and international call zone.

3 exceptional weeks to share with yogis from the whole world Full boarding, yoga teachings, seminars, western yogic guide
740 € – Flight Europe/India non included

Special offers for yoga teachers coming with their own students 

Detailed program and registration form
Flyer in English: E – Kumbha Mela 
Infos : rasa-asso@hotmail.fr Ph :+33 609 175 751